*This post may contain affiliate links. As an Amazon Associate we earn from qualifying purchases.
Who doesn't love a good coffee table? Whether you're using it to hold an actual cup of coffee or you just need a place to set your phone down while watching TV, it's one of those pieces of furniture that you're almost always glad you have.
Coffee tables have come a long way in design since your parents had that massive brown square one that you always stubbed your toe on.
Now, you can design and customize a coffee table to make it as unique as diy coffee table you want for your space.
But with so many options to choose from, how do you narrow down which coffee table is right for your room?
Which Coffee Table Will Work Best for Me?
We know, first and foremost, that you love your coffee so you need a place to set it down while you're curled up reading or watching TV.
But what other functions should your coffee table include? Do you need extra storage for your books, blankets, remote controls? A coffee table can be a great solution for any of those items.
Second, think about who is using the room. If you have kids, then you probably want to choose a table that has rounded edges if possible and think twice about using a glass top.
It'll be one less item you have to worry about around the house. If that's not a concern then perhaps something with a glass top and clean lines could be a great choice.
Third, you'll need to consider the size of the table. You'll want something that is manageable in size compared to the size of your room. While there's no rule that says you can't have a table higher than your sofa, try to align the height of your sofa with the table if possible.
This is for both comfort and function if nothing else. Think about the height of the table as you're trying to grab your favorite cup of java from it. Now that you know how to choose the one that's right for your room, think about your budget.
As with most other items in your home, there's a budget for everyone when it comes to tables. Whether it's because you have a smaller budget or you just want something unique and creative, a coffee table is a perfect project for those who love to DIY.
12 Ideas for the Best DIY Coffee Tables
We've put together a list of our favorite ideas for a DIY coffee table. Oh, and don't let the name fool you.
Just because it's DIY, doesn't mean it'll be anything less than wonderful. Use any one of these designs and you'll create a space that's both functional and fabulous.
Wine Crate Table
A few wine crates are all you need and you can repurpose the crates to make a gorgeous coffee table. You can stain them to make them fit seamlessly within your décor.
Arrange the crates exactly the way you like, secure them tightly and you have the makings of a unique piece of furniture.
Door Slab (or Salvaged Door) Table
A table made from an old interior door is a great way to reuse materials for very little cost. Finding these doors is easy, just look around your house or a salvage yard.
You can either keep the color as-is or stain or paint it if you like. Once you add 4 legs then you're on your way to a brand-new coffee table.
Ottoman Coffee Table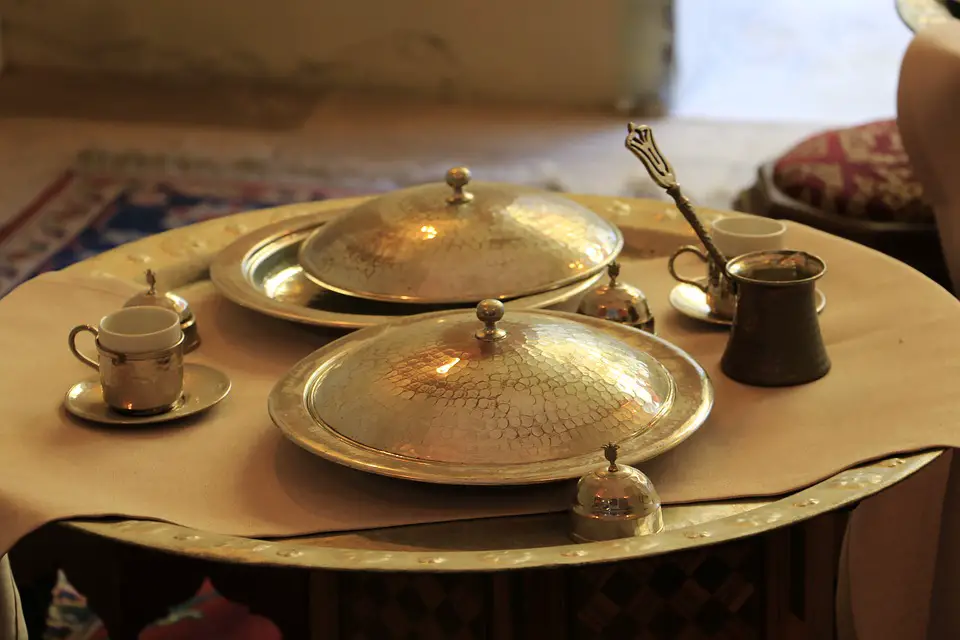 Ottomans can be both practical and pretty. If you already have an old wooden coffee table that you aren't sure what to do with, then why not repurpose it into a stylish ottoman?
You will need basic supplies to achieve this look: 4-inch foam, adhesive spray, a tape measure, utility knife (or an electric carving knife), a staple gun and staples, and fabric.
Simply attach the foam to the table with the adhesive, then stretch and staple your fabric over the foam. Before you know it, you'll have a comfortable and stylish place to rest your feet.
Window Coffee Table
Similar to the door slab table, this table allows you to repurpose an old window before it ends up in a landfill.
Simply attach 4 legs to the underside of the window and you have a piece that's unique and beautiful. Added bonus, the glass in the windows make it easy to tidy up accidental spills.
Bottle Caps Table
Do you have a collection of bottle caps you have been wondering what to do with? A great way to finally put your collection to use is to make a table with a top made out of bottle caps.
This is a great option if you already have a table that fits your space. If you are looking for a way to add interest to an otherwise dull piece of furniture, then simply gluing on your bottle cap collection could be just the answer you're looking for.
Pallet Coffee Table
Pallets are very on-trend in design right now. What a great way to use wood that would otherwise be tossed to the side.
The pallet provides the sturdiness you need plus an excellent opportunity for additional storage. You can find pallets in multiple places – home improvement stores, grocery stores- and they are usually free for the taking.
Crate Storage Table
Similar to the wine crate idea, this will also work with any type of crate you have. Make sure your crates are uniform in size.
Secure the crates in the order in which you like. The result will be a table that is stylish and can be used for storage.
Spool Coffee Table
If you have ever seen wire wrapped around a giant spool, then you know the spool could easily be converted to make a fantastic coffee table.
The hardest part of this design will be pulling the bolts out of the spool. After that, your choices of how you want your spool table to look are only limited by your imagination.
You can choose to keep the spool as is, or add casters to it if you want your table higher. The rounded edges make this a great option if you have kids that will use this coffee table quite a bit.
Suitcase Coffee Table
A vintage suitcase is a great way to create a unique coffee table. Depending on the size of the suitcase you are using, you can add legs or choose to set it directly on your floor.
Don't think of these as just small little boxes-suitcases come in all shapes and sizes.
Herb Garden Coffee Table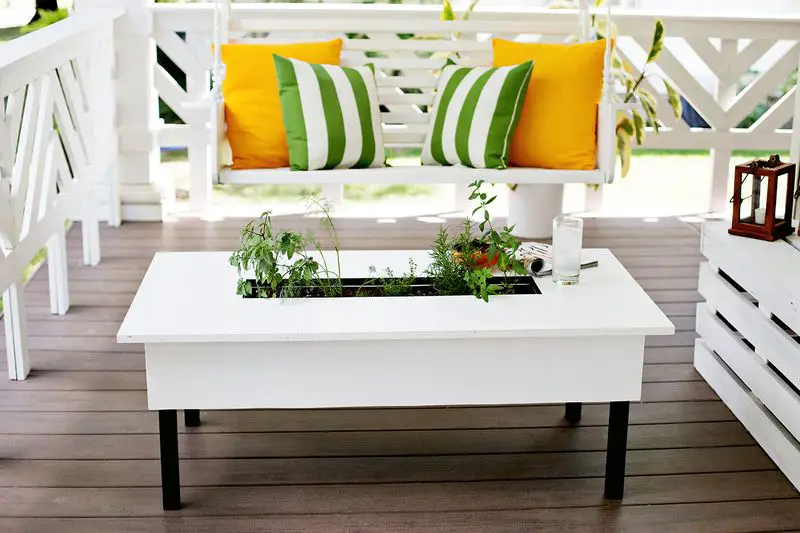 You don't have to have a green thumb to enjoy this DIY herb garden coffee table. Think of the table as a way to show off greenery and provide a fresh element to your room.
While you might have as much surface area for multiple coffee cups, you'll end up with a piece that's both beautiful and a practical way to display your plants.
You'll have a calm and soothing environment as you're surrounded by your favorite plants or herbs.
Chicken Crate Table
Who knew chicken crates could provide such a fashionable and useful benefit when it comes to a DIY coffee table? Attach 4 casters to the bottom and you'll have a wonderful piece to rest your feet on.
You can even decorate the inside with various items such as books, pinecones, shells-the possibilities are endless.
Think of all the ways you can decorate each season with the chicken crate table. The top of the crates provide an ample amount of space to display your books or prop your feet up.
Trash Can Coffee Table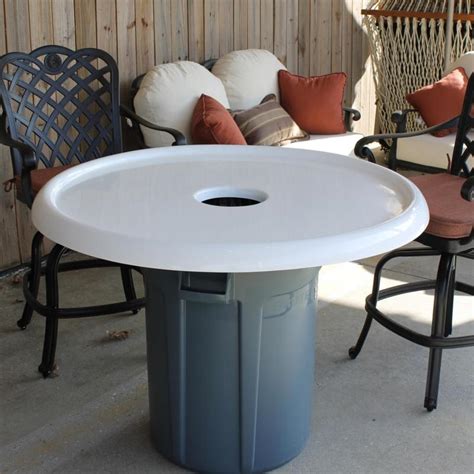 Okay, maybe "trash can" isn't exactly the first thing that comes to your mind for a coffee table. But a beautiful wire mesh basket and a can of your favorite spray paint can instantly become your new favorite coffee table.
This design is perfect when you need something a little smaller and unobtrusive.
DIY Coffee Table-More than a Cup Holder
DIY definitely doesn't have to be boring. Any one of these ideas can be adapted to look right at home in your space.
With so many options, which DIY coffee table is right for you?
The fun part will be deciding from all of these choices and then bringing it to life in your space.
No matter which one you choose, it'll be a distinct expression of your design personality – and one you can enjoy for years to come.