*This post may contain affiliate links. As an Amazon Associate we earn from qualifying purchases.
It's fall. You've suffered through an unusually hot summer. The heat was exhausting and sometimes unbearable. You're just thankful it is over.
Thankfully, you had an air conditioning escape from the heat, but your deck, unfortunately, did not. You've noticed the paint cracking and bubbling leaving behind a deck that is need of some serious work.
You love your deck. You spent weeks building it so you would have the perfect place to hang out with friends and family. You've had countless BBQs, late-night chats, and you've enjoyed your morning coffee sitting out on the deck.  But now, the shape it is in, you don't even want to go out on your deck.
Your deck needs a facelift.
You thought you had bought the best deck paint when you first painted the thing, but now you realized you might have saved money going with the cheaper deck paint, but you did not save your deck.
Walking out on your deck leaves your feet covered in splinters and paint chips. You don't want this for your deck.
Thankfully, for you, there are plenty of great deck paints on the market today to give your deck a little sprucing up. Don't worry about finding the right deck paint for you, you've got you covered. We understand there are a lot of paints out there today that promise a lot but do not follow through, so we've searched the internet to find the best deck paints on sale today.
But, before we go into which deck paints are the best, let's discuss what you should do before you even begin painting.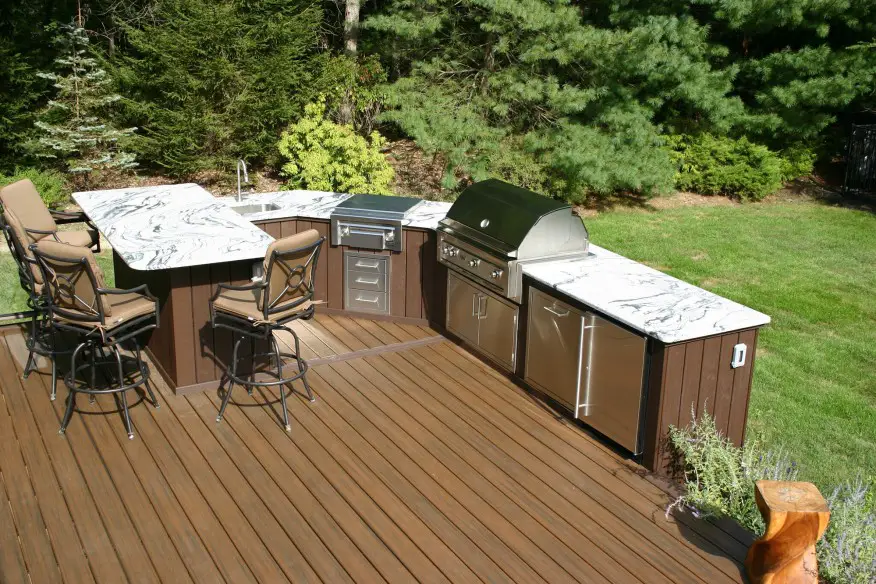 Steps To Getting Your Deck Ready To Paint
Step #1: To Prime Or Not To Prime
If you have never painted your deck before and it is bare wood, then a primer is the best bet. Bare wood is porous, so it will suck up the paint if there is no primer. If you have painted your deck before, you don't necessarily need a primer unless the paint you picked suggests that you do.Always go with the manufacturer's suggestions because that will make sure you get that seamless coverage you are looking for.
Step #2: Get That Deck Clean
The next step before painting is to make sure your deck is clean. If the deck is not clean, then it can mess up the paint job.And you don't want that.First, start by sweeping the deck to get rid of any dirt or debris. You don't want to have any dust particles on your deck because it can cause unwanted bumps in the paint job.For an added measure of clean, rent a power washer to blast any dirt from your deck. Using a power washer will ensure you have not missed any particles.If you do not have access to a power washer, use a simple garden hose to spray down any debris you did not get from sweeping.After you have swept up any loose debris from your deck, spray a mildew resistant cleaner to prevent any unwanted mildew or mold growth. Mildew can destroy the luster and durability of your deck paint.
Step #3 Scrape And Sand
After the deck is dry, scrape up any excess debris or old lingering paint you might find on the deck. After that, get sandpaper to smooth out any rough edges. You don't need a lot of pressure when sandpapering the wood, just enough to make it smooth and ready to be painted.After you have scraped and sandpapered the deck, get the broom out again and give it a quick once over to remove any of the dust.
Step #4: Spray It Down One More Time
After you have finished sweeping the excess debris, get your garden house and spray down the deck. Focus on areas where you noticed a lot of particles sticking around. You want to make sure you get rid of all of those unwanted little flecks so that you can have a seamless coat.
Step #5 Wait It Out
Depending on the deck paint you buy, you will more than likely have to wait until the deck is completely dry before you can begin painting. Some paints let you start painting when the deck is still damp so check the label to make sure.It is important to read everything on the label because manufacturers provide some time-saving tips as well as proper methods of painting.Many people do not read all of the fine print which can cause unwanted results.
Step #6 Cover It Up
After the deck is ready, make sure you cover up any area that you don't want to be covered with paint. You don't want to worry about having to remove rogue paint. Use painters tape or for larger area's use a painter's tarp.
Step #7 Time To Paint
Now, finally, after all that hard work, you are ready to paint your deck.But which paint should you choose?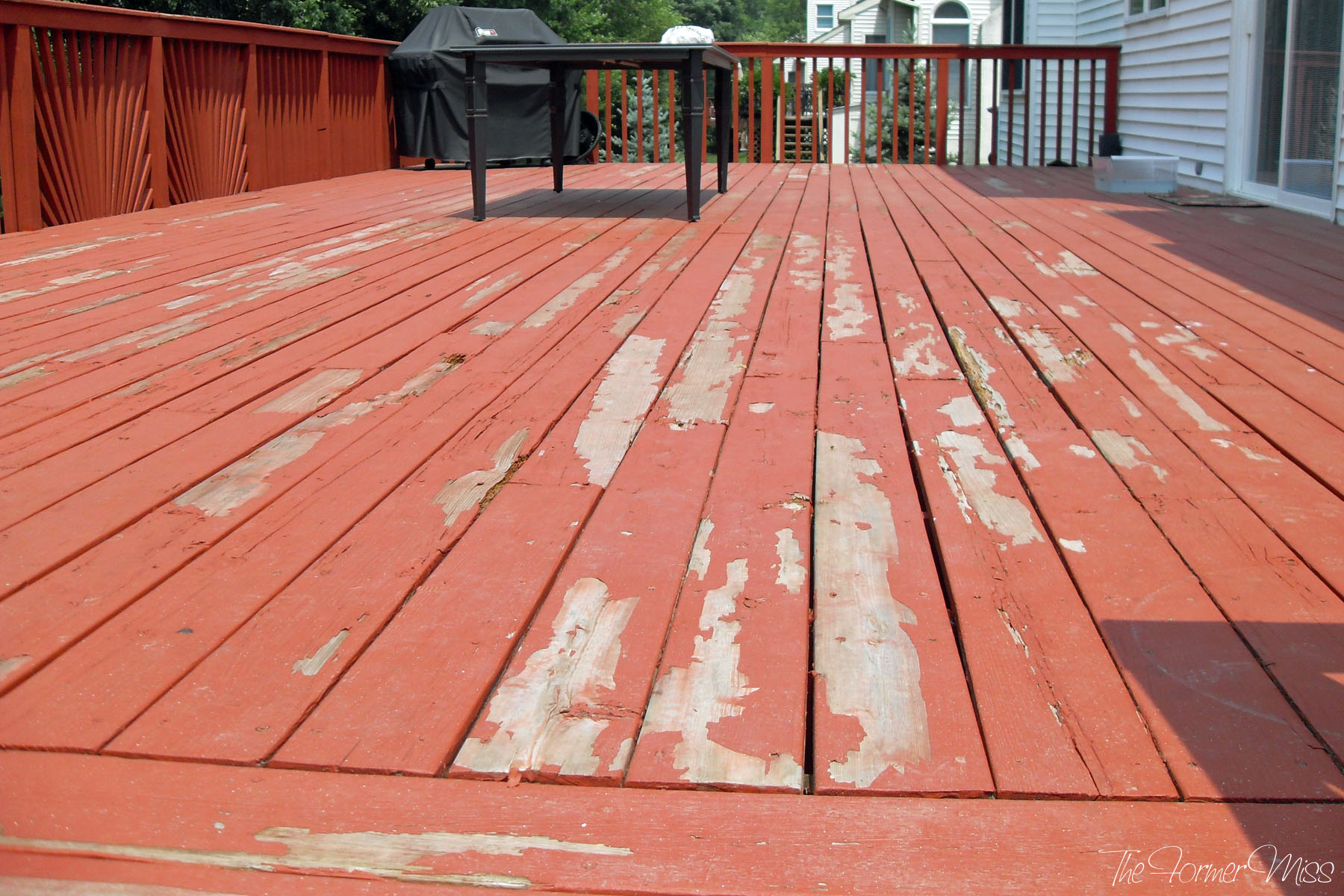 Top 5 Best Deck Paints
​
​How Did We Decide On Our Ratings?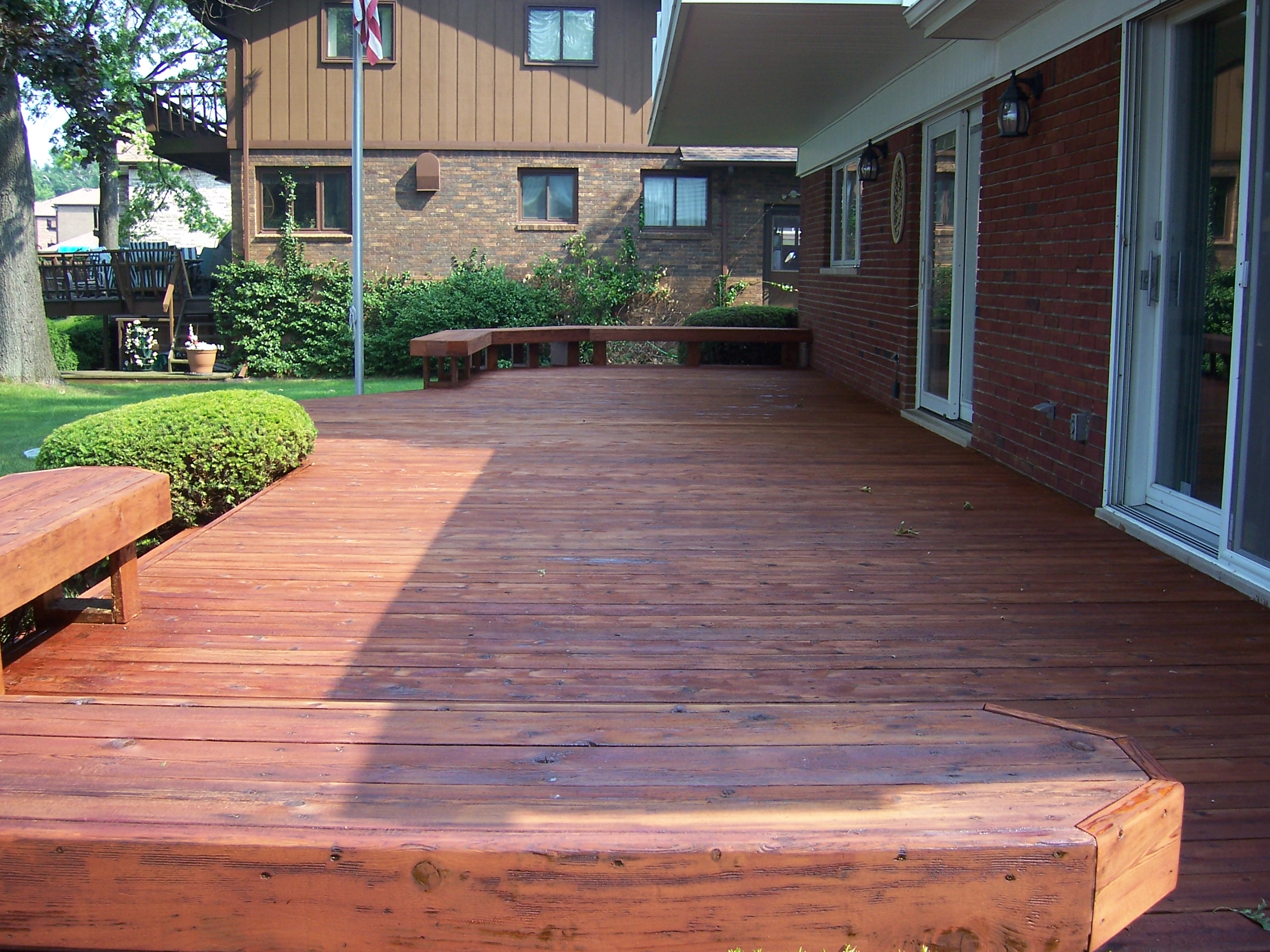 We spent hours researching customers reviews and watching product testing demonstrations to find the best deck stains for you.  We looked at the highest priced and the lowest priced paints on the market to find ones that provide exactly what they promise.
A durable, versatile paint that prevents any weathering or chipping.
Painting your deck is a time-consuming process, so we didn't want you wasting your precious time doing the research, so we did it for you. What follows are the top five best deck paints available to buy.
We've based our rating system on a five-star rank. Each product is measured by the products affordability, durability, and versatility.
[amazon link="B01M254YD8″ title="SuperDeck Exterior Waterborne Solid Color Deck Stain" /]
[amazon box="B01M254YD8″]
Sherman Williams Super Deck is a great product that provides not only deck paint, but products that help with cleaning and priming your deck. These products working together will give you a durable coat that can weather any storm.
With the Sherman Williams brand, they provide the perfect solution for your deck painting needs.
The Super Deck is formulated to produce heavy-duty, high-quality deck paints and stains that are water and mildew resistant. The Super Deck provides durable, opaque protection for exterior wood surfaces.
One exciting feature of the Super Deck brand is that it has the Cool Feel Color Technology. The Cool Feel Feature reduces the surface temperature by up to twenty degrees which is great for those summer BBQs.
Super Deck offers long-lasting protection against weathering, chipping, or cracking. The product also contains mildew resistant, so you don't have to worry about mold or mildew growing on your deck.
The beautiful thing about the Super Deck paint is that it can be applied with the wood is wet. So you won't have to schedule a weekend-long paint job. You can quickly get the job done in one day.
So you can actually enjoy your weekend.
PROS
CONS
[amazon link="B00NO6TTBS" title="BEHR Premium DeckOver" /]
[amazon box="B00NO6TTBS"]
If you are looking to paint, smooth, or texturize your deck, BEHR Premium DeckOver brand is an excellent option for your needs.
Behr has provided excellent paint products since the 1940s, so you know that this product is top-quality and will get the job done.
The DeckOver brand is specially formulated for better coverage for your deck.  The deck over is one hundred percent acrylic which conceals cracks and splinters to create a smooth, slip-resistant finish.
The BEHR Premium DeckOver resists any peeling or cracking so it can handle even the worst of weather. DeckOver comes in fifty-four different solid custom colors, so you will be able to find the right one for your project.
DeckOver is terrific for decks, patio, railings, walkways, and composition decks. The versatility of this paint allows you to use the product on multiple outdoor surfaces.
Overall, BEHR Premium DeckOver offers a durable, long-lasting finish for multiple outdoor surfaces.
PROS
CONS
[amazon link="B06XPYYLT6″ title="KILZ Over Armor Wood/Concrete Paint" /]
[amazon box="B06XPYYLT6″]
The KILZ Over Armor brand is formulated for some of the toughest of painting textures. With their tried and true primer selection, their Over Armor Wood/Concrete Paint provides the same all over coverage as their top-selling primer.
KILZ Over Armor Wood and Concrete Coatings provide an inventive, waterproofing color coating that breathes live into old, weathered wood or concrete. With it's durable and advanced acrylic resin base this solid coating hides imperfections and gives a facelift to old, weathered wood and concrete.
Use KILZ on worn or cracked horizontal or vertical wood to conceal splinters and cracks to provide a textured slip-resistant finish. KILZ covers 75 square feet per gallon, so you know you are getting your money's worth.
For optimal durability, KILZ suggests two coats for superior coverage.
PROS
CONS
[amazon link="B00NI150Z8″ title="Liquid Rubber Cool Foot Deck And Dock Coating" /]
[amazon box="B00NI150Z8″]
Liquid Rubber Cool Foot Deck & Dock coating is a high-performance, acrylic, elastomeric coating that is formulated to reduce heat. The product promises up to 35% decreased temperature compared to other brands.
The Cool Foot Deck & Dock Coating produces a durable, weather resistant, seamless coverage for any of your outdoor projects. The product has excellent solar reflectivity and UV stability, so it prevents any sun damage to your deck.
The Liquid Rubber Cool Foot promises a non-stick surface, so there is no possibility of anyone taking a tumble if the deck gets wet, which is great if you have a child who tends to be a little clumsy. The Liquid Rubber will prevent any unwanted scraped knees.
The paint offers a non-tacky feeling so it won't stick to your feet. The formula is non-toxic and solvent free, so you won't have to worry about introducing any toxins into your deck.
PROS
CONS
[amazon link="B0053HOIFS" title="Petit EZ Deck Nonskid Deck Paint" /]
[amazon box="B0053HOIFS"]
Petite EZ Deck Non-skid deck paint offers a robust, extremely durable weather resistant finish that is easy to apply. EZ Deck is a sturdy polyurethane base which covers better and more evenly coverage for your outdoor projects.
The particular grit provides a slip-resistant finish on all decks, guaranteed.
Like the many other products offered by Petit "EZ" brand, the Nonskid Deck paint provides the simplest way to accomplish optimal results with the least possible effort by you.
Which means less stress and less back-breaking work trying to finish painting your deck.
The durable weather resistant paint provides stricter protection against long-term abuse as well as protection from fading with the use of its ultraviolet filters. The ultraviolet filters prevent fading and color retention better than many deck paints on the market today.
EZ brand offers a vibrant, fade and cracks resistant finish for years to come.
PROS
CONS
And The Winner Is….
Overall, the deck paints listed above are an excellent choice to give your deck a little life. Out of all of the suggestions, Petite EZ Nonskid Deck Paint. The product provides excellent overall coverage and a durable finish which can stand up to even the harshest of weather conditions.
The price is excellent compared to the others offered because it gives you more bang for your buck. You won't have to worry about going over your deck with multiple coats, and it allows for a faster paint job.
You don't want to waste your weekend painting your deck, so this is an excellent option for you.
​
Buyers Guide
If the Petite EZ Nonskid Deck Paint is not what you are looking for, try any of the other four options on this list. Each one provides coverage for your deck and prevents any unwanted chipping or peeling.
Overall, we want you to find the best deck paint for your needs.
Whether you're just looking to clear a few fallen branches in your backyard, or hoping to upgrade to the next best model for your tree-cutting service, we've got a list of the 10 best chainsaws currently on the market.
How We Chose Our Ratings
These include testimonials and reviews from customers, data about the product, and the general reputation of each brand.
These factors are combined to give you the most accurate rating and help you find the right product for your needs.
​Comparison Table
[amazon box="B01M254YD8,B00NO6TTBS,B06XPYYLT6,B00NI150Z8,B0053HOIFS" template="table"]