*This post may contain affiliate links. As an Amazon Associate we earn from qualifying purchases.
Whether you're just looking to clear a few fallen branches in your backyard, or hoping to upgrade to the next best model for your tree-cutting service, we've got a list of the 10 best chainsaws currently on the market.
How We Chose Our Ratings
These include testimonials and reviews from customers, data about the product, and the general reputation of each brand.
These factors are combined to give you the most accurate rating and help you find the right product for your needs.
| PRODUCT NAME | IMAGE | RATI​NG | DETAILS |
| --- | --- | --- | --- |
| | | | |
| | | | |
| | | | |
| | | | |
| | | | |
| | | | |
| | | | |
| | | | |
| | | | |
| | | | |
Top 10 Best Chainsaws
1. Stihl MS 261C-M
The Stihl MS 261C-M tops our list as the best chainsaw to get the job done. It has the Stihl M-Tronic, an onboard microprocessor that digitally monitors and automatically compensates for changes in your work conditions.
This includes things like changes in elevation or fuel quality, which means your chainsaw is always working optimally for the best performance without needing to make any manual adjustments.
It also features an anti-vibration system that makes for much smoother cuts, and the power-to-weight ratio is unparalleled by any other chainsaw on the market today.
This low-exhaust, high-power chainsaw is the perfect choice for professionals looking for a reliable and durable tool that's built to last. We give this great tool 5 out of 5 stars.
PROS
CONS
2. Echo CS 310-14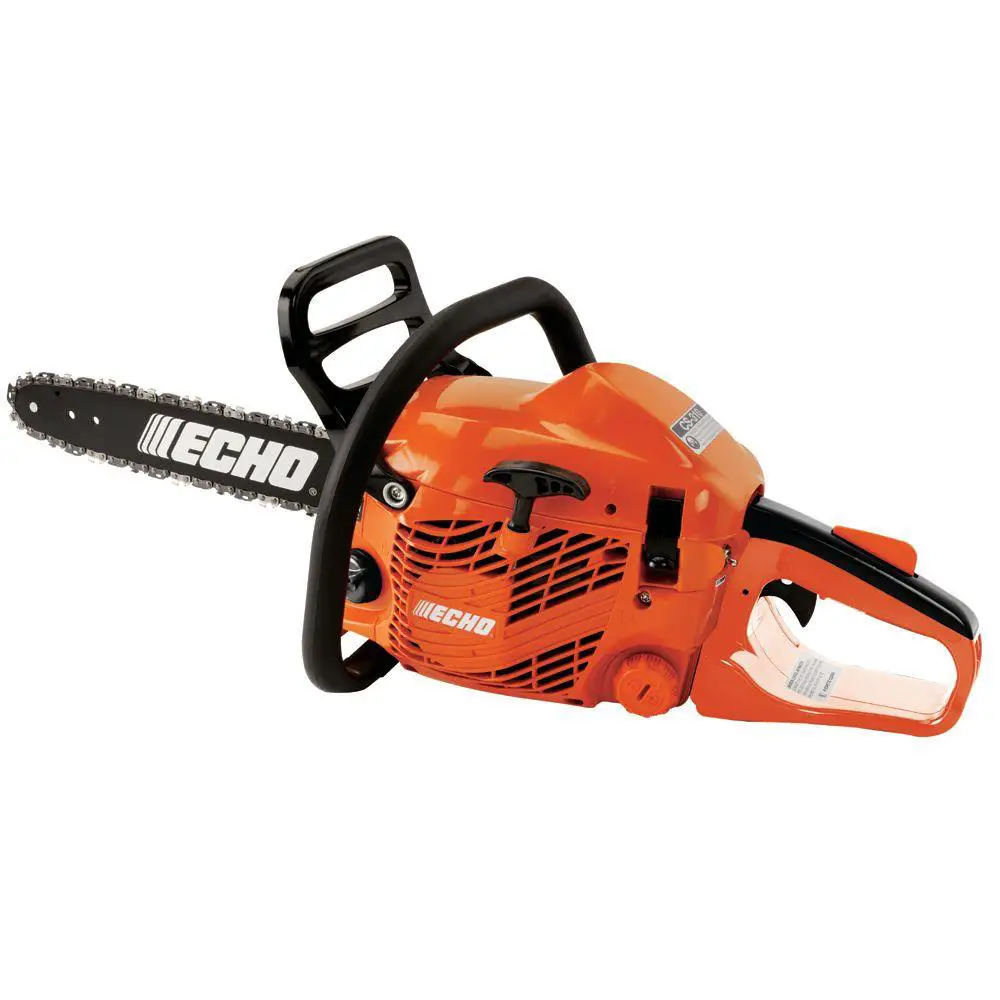 This model is one of the best chainsaws on the market. Weighing only 8.8 pounds, this lightweight chainsaw features a powerful 30cc two-stroke engine that makes quick work of any project.
It also features a sturdy, aluminum and plastic body that can withstand rough use. This body is also lightweight and makes the chainsaw easier to handle.
It features a shorter guide bar (14 inches) than some of the other models in this list. It can also be as loud as 90 decibels when in use.
We always recommend that you use adequate protection when operating a chainsaw, but make sure that you have a good set of ear plugs to protect your hearing.
Overall, this model is powerful enough to get through the tough jobs, but light enough to reduce user fatigue and get the job done faster.
This is the perfect option for regular users. We give this one 4.5 out of 5 stars.
PROS
CONS
3. Stihl MS 230 C-BE
This 40cc saw comes with Stihl's Duro carbide-tipped chain, which lengthens the life of the chain and makes it easy to cut through tough or dirty wood and nails.
The 16-inch bar is great for any wood-cutting project. This saw features the Stihl ErgoStart system, which reduces the jerky movements that you usually feel when trying to start up a gas chainsaw.
All you need to do is gently pull on the starter rope and it winds a spring that releases when it overcomes the compression pressure and turns over the engine. No more frustrating starts.
This model also has Quick Chain Tensioning, which makes it easy to adjust the chain without tools or coming into contact with the saw chain itself.  Just release the sprocket cover and turn the adjusting wheel to set the tension.
Finally, a single-lever master control takes care of all the important functions like start, choke, throttle, and stop on a single lever. We give this model an easy 4.5 out of 5 stars.
PROS
CONS
4. Echo CS-490
The Echo CS-400 is a high-quality saw at an affordable price. The 40cc two-stroke engine is powerful enough for even the toughest of jobs.
It features a small toggle on/off switch and separate choke lever. The G-Force Engine Air Pre-cleaner means less air filter maintenance for you, and the heavy-duty automotive style air filter is easy to access while providing superior filtration.
This model also has an automatic, adjustable oiler that matches cutting condition and an i-30 starting system so it's easier to start.
All this, plus an inertia-type chain brake for added safety gives this model 4 out of 5 stars.
PROS
CONS
5. Husqvarna 240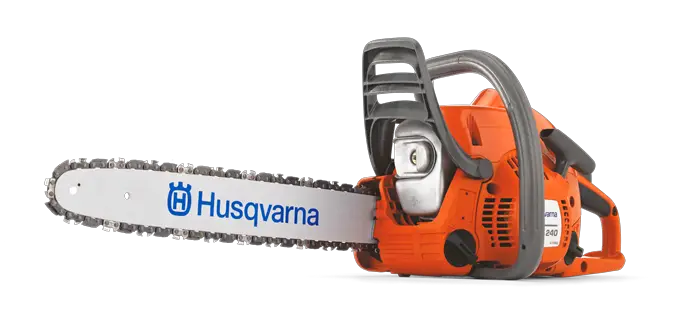 This powerful 38cc chainsaw is fuel-efficient and full of torque. The engine is designed to consume less fuel and produce low exhaust levels, thereby extending the life of the tool overall.
The 16-inch guide bar does increase the chances of kickback, but the inertia-activated chain brake stops the chain's rotation if it kicks back. This saw is powerful and great for larger jobs.
Due to its powerful ability to deliver a clean cut with minimal vibration, we give this chainsaw 4 out of 5 stars.
PROS
CONS
6. Worx WG303.1
This Worx corded chainsaw is a quality product for a great price. It doesn't have quite as much power as the gas models on this list, but it can still do the same type of work, just not as fast.
It features a 16-inch guide bar and since it's corded, it will never run out of fuel. Just pull it out and plug it in and you're ready to go.
The corded feature means you'll need to be close to an outlet to do your work, but it's a great model for a great price – less than $100!
It may not be the best choice for more involved forestry jobs, but it's perfect for work around the yard. We gave this one 4 out of 5 stars.
PROS
CONS
7.Stihl MS170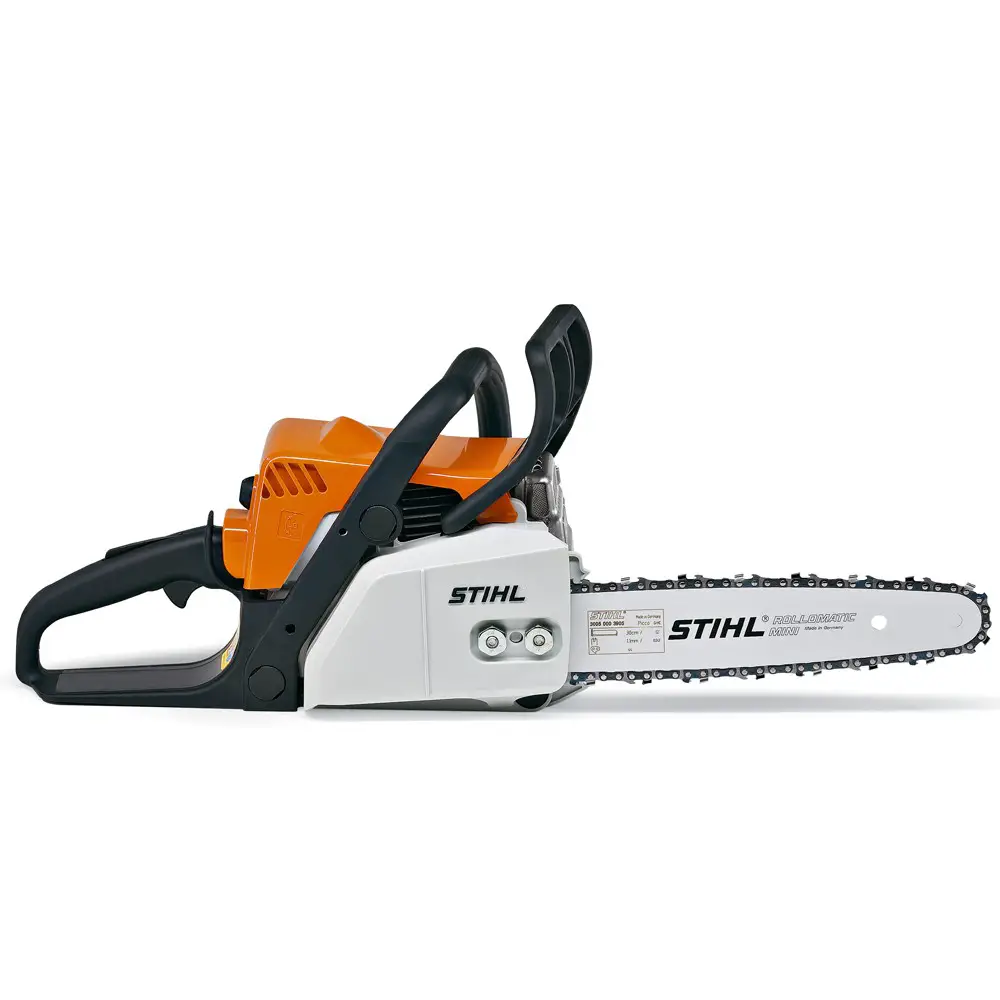 This small gas chainsaw is a great model for the occasional cleanup job or cutting firewood at home.
It features a powerful two-stroke engine and a 16-inch guide bar that makes quick work of your wood-cutting projects.
The lightweight plastic and aluminum body means it weighs less than 11 pounds, which makes it easier to maneuver and reduces kickback.
One downside to the plastic housing is that it can crack easily, so start it on the ground with your foot on the rear handle.
As with the other Stihl chainsaws on this list, this saw is fuel-efficient and produces low emissions when in use. Also like the other Stihls on this list, you can't buy this chainsaw or its parts online.
This brand is only available at licensed retail dealers, which can be an inconvenience if you're hoping to find parts on Amazon. However, we still give this dependable, quiet, fuel-efficient chainsaw a solid 4 out of 5 stars.
PROS
CONS
8. Craftsman 35170
This sturdy Craftsman chain is the perfect tool for taming your yard. The powerful 38cc full crank engine is easy to start and even easier to use.
It has a 16-inch guide bar and a chain that's easily adjustable without tools. The tool-less chain tensioning system makes maintenance a breeze.
With low kickback and an inertia-activated chain brake, you can reduce the safety risks while still getting the job done.
It also features an automatic chain oiler that keeps the chain running smoothly. We give this durable chainsaw a solid 4 out of 5 stars.
PROS
CONS
9. Jonsered CS 2253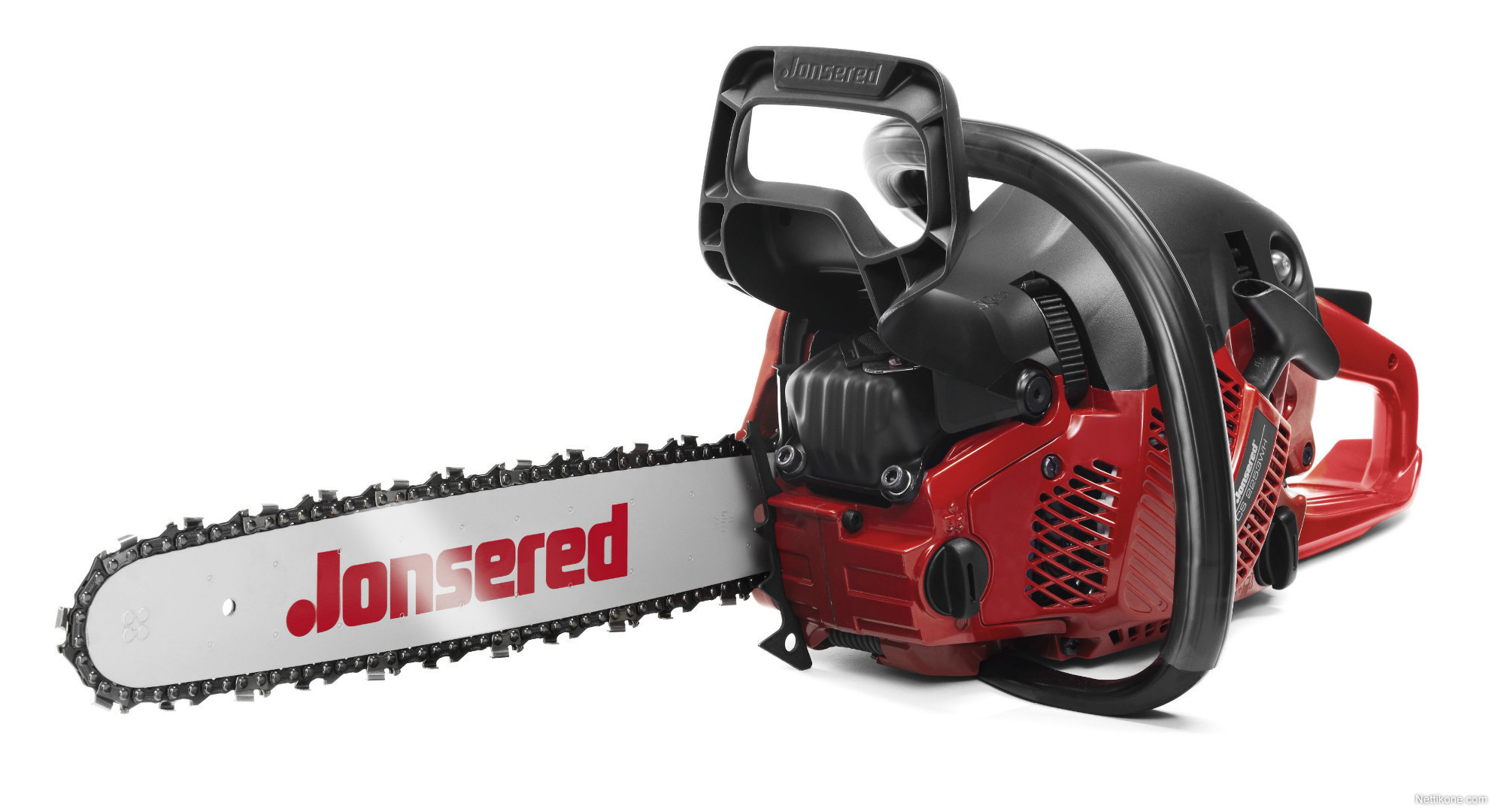 This 50cc chainsaw is perfect for logging where there is a lot of limbing work. It features a low-profile body and powerful engine that makes limbing even easier.
It has a great throttle response and plenty of torque. Like the Husqvarna model above, this model also features an inertia chain brake, reducing the chance of injury if the chainsaw kicks back.
The side-mounted chain tensioner makes for easy adjustments, and you can choose between th/uk/products/chainsaws/cs-2253-wh/966779525/ree different guide bar lengths when you order it.
Due to the powerful engine and optimal safety features, we give this chainsaw 4 out of 5 stars.
PROS
CONS
10. Craftsman 34120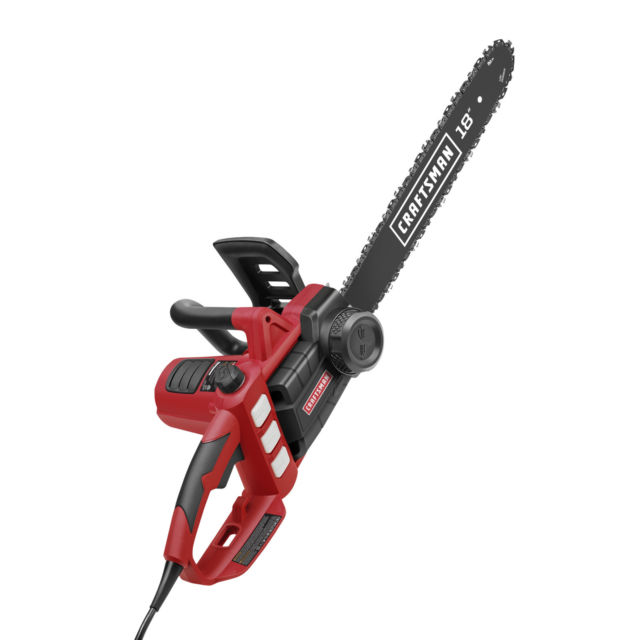 If you're looking for a chainsaw that you only need for occasional work in the yard, then this is the one for you.
This corded model is among the easiest to set up, as it requires no assembly and can start right out of the box. All you have to do is put oil in the tank, plug it in, and pull the trigger.
It features an 18-inch guide bar which can be a bit bulky, but it's perfect for larger projects in the yard and cuts through tough wood easily.
You'll only ever be able to use this model if an outlet is nearby, but you never have to worry about running out of gas. We give this product 3.5 out of 5 stars.
PROS
CONS
Buyer's Guide
The saws listed above are among the best chainsaws currently being sold. We believe that any choice off this list will give you a reliable tool that will last for many seasons to come.
However, here are a few things to look for when you're buying a new chainsaw.
Easy Start System
Look for chainsaws with an easy start feature that reduces the starter cord tension. The bigger the engine, the harder it will be to pull the starter cord.
Therefore, finding a manufacturer that offers an easy-start system will make it easier for you to get up and running.
Carbide-toothed chain
A chain with carbide tips is strong enough to cut through dirt and nails and won't dull as quickly as a steel chain.
It doesn't take much to dull the blade if the chain touches the ground or hits a nail in the wood. So, if you know you're going to be cutting stumps close to the ground or dirty wood, this feature might be worth it.
Just make sure you know where you can sharpen the chain if you decide to get a chainsaw with this feature, as it's a bit difficult to sharpen a carbide chain yourself.
Easy-To-Use Choke and On/Off Switch
Look for chainsaws that have a choke and on/off switch that is easy to manipulate with gloves on.
Some brands have a combined switch that makes operation even easier. If you're looking for a hassle-free start-up, this feature is a must.
Tool-Free Tensioning System
It's important that the chain is tensioned correctly, or you're looking at a massive safety hazard. Generally, you would adjust the chain with a wrench and screwdriver, but this system means you don't need that.
Not every chainsaw has this feature, but for the sake of easier adjustments, it's worth the money to find one that has it.
Look for Durability Above All
Worry less about the length of the guide bar, and more about the durability of your chainsaw. You can usually accomplish quite a bit with a shorter guide bar.
But you want to make sure the model you choose is going to reliably start up with each use.
Other Things to Know Before Buying a Chainsaw
First and foremost, you should expect to buy the appropriate safety equipment with your new chainsaw if you don't already have it yet.
You should always wear hearing protection, a helmet with a face shield, leather gloves, and protective chainsaw chaps.
These items will reduce your risk of serious injury when operating the chainsaw. The larger the engine, the more powerful the chainsaw is.
Most DIY users who are using their chainsaws for cutting firewood or cleaning up the yard likely won't need an engine larger than 40cc's. A good sweet spot for those users is between 32cc and 40cc.
Larger engines are also more expensive, so if you're looking for a chainsaw that won't break your budget, look for one with a smaller engine. Engines that are 40cc or higher are great for heavy-duty use.
When in Doubt, Seek Help from the Experts
Many of the features listed above will add onto the price tag of your new chainsaw.
Many of them are convenient, but not necessary for operating your saw. You can shave a few dollars off the price if you're willing to sacrifice a bit of convenience.
If you're not experienced with chainsaws, your best bet is to find your nearest full-service dealer and ask them to help you set up your saw and show you how to start it.
They're also a great resource for troubleshooting any problems or maintenance that may come up over the life of the saw.
Featured Image: https://www.protoolreviews.com/tools/outdoor-equipment/best-battery-powered-chainsaw-shootout/29018/